Collaborative Decision Making (CDM)
Welcome to Collaborative Decision Making (or CDM), stop three of your tour!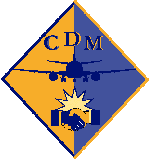 CDM is a phrase that has very broad implications. It is really more a philosophy on how to conduct business between the various components of aviation transportation, both government and industry. There are 24 airlines currently participating in this initiative.

CDM is a specific FAA program, managed and sponsored by AUA-700. There are two central principles to CDM:
Better information will lead to better decision making
Tools and procedures need to be in place to enable the ATCSCC and the National Airspace System (NAS) users to more easily respond to changing conditions.


Your next stop on the tour is
CARF.